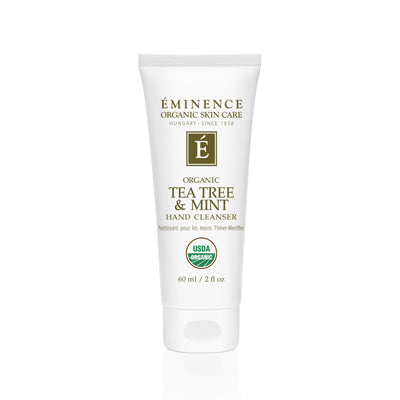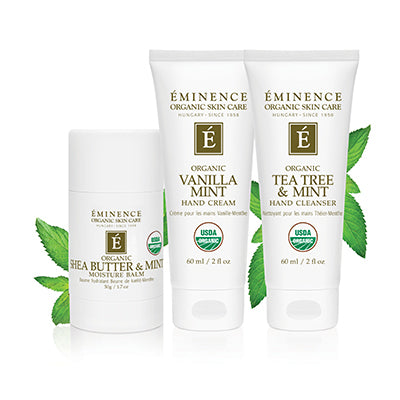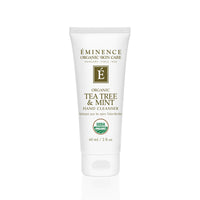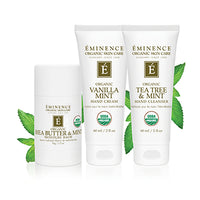 Eminence Organics Tea Tree & Mint Hand Cleanser
💫 Earn 45 rewards points when purchasing this product as a rewards member*.
Enriched with organic chamomile, aloe vera and tea tree oil. This rinse-free hand cleanser is free from harsh chemicals and will leave your hands moisturized and clean when fresh water is unavailable.
Retail Size: 2 fl oz / 60 ml
Dispense a small amount into the palm of your hand and rub the product into the skin until fully absorbed. Do not add water.
Tea Tree Oil: purifies the skin
Peppermint: refreshing antioxidant
Aloe: heals, moisturizes and soothes dry skin
Chamomile: revitalizes, calms and balances the appearance of skin
Vanilla: moisturizes with an uplifting scent
Denatured Grain Alcohol*: natural antibacterial and antiseptic
We Believe in
We say NO to
Organic
Parabens
Natural
Phthalates
Biodynamic®
Sodium Lauryl Sulfate
Sustainable
Propylene Glycol
Cruelty Free
Animal Testing
Our natural, organic and Biodynamic® ingredients may have slight variations from harvest to harvest. *The Centers for Disease Control and Prevention (CDC) recommends using an alcohol-based hand sanitizer with a minimum of 60% alcohol to be effective against COVID-19. Note that our Hand Cleanser does not contain a minimum of 60% alcohol.
Skin is clean and moisturized
Skin appears softened and soothed
Eminence is constantly innovating our product formulations to deliver the best results.