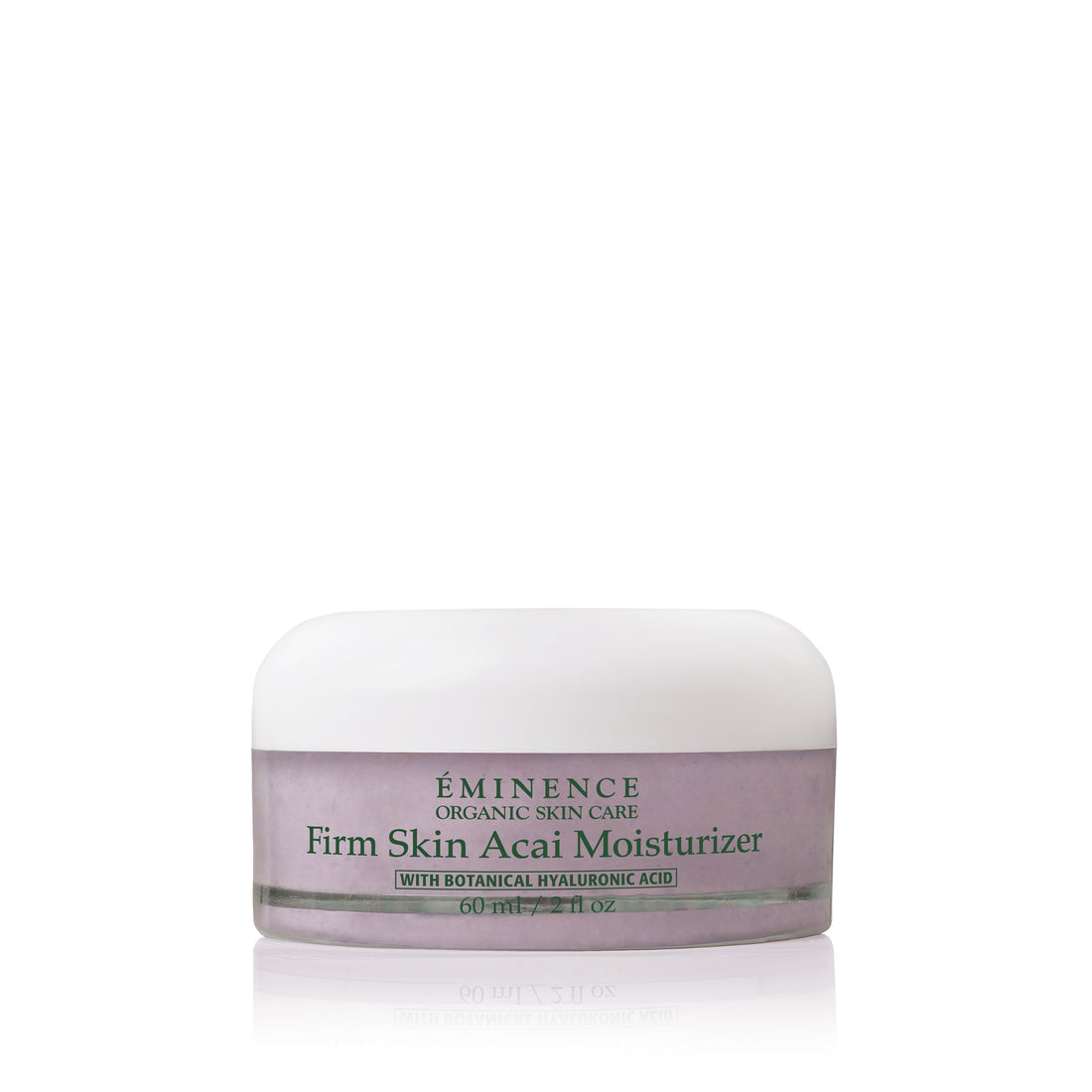 Eminence Organics Firm Skin Acai Moisturizer
💫 Earn 345 rewards points when purchasing this product as a rewards member*.
Hydrate and nourish aging skin with rich shea butter and skin-plumping botanical hyaluronic acid. Targeted formulas Homeostatine® and Biocomplex boost the appearance of elasticity for younger-looking skin.
Retail Size: 2 fl oz / 60 ml 
Apply a layer of moisturizer over the entire face and neck area. Leave on. For a lighter application, emulsify a small amount of moisturizer in your hand with a few drops of water. For extra hydration, apply a thicker layer on dry areas.
Acai Berry Juice: nourishing to improve skin tone
Botantical Hyaluronic Acid (from marshmallow plant extract): deeply hydrating; natural substance that smooths and plumps skin to minimize the appearance of fine lines and wrinkles
Blueberry Juice: nutrient, antioxidant
Raspberry Juice: antioxidant; source of vitamin C and bioflavonoids
Shea Butter: moisturizer; high in triglycerides and fatty acids, it is an excellent emollient for skin that revitalizes and repairs
Seabuckthorn Berry Oil: vitamin-rich, nutrient-rich; moisturizes to protect skin cell membrane
Homeostatine (Marine Algae, Tara Tree): antioxidant; helps to prevent dehydration; reduces the appearance of wrinkle depth
Biocomplex™: a booster of antioxidants, vitamins, Coenzyme Q10, and Alpha Lipoic Acid to reduce the appearance of wrinkles and improve the appearance of skin
We Believe in
We say NO to
Organic
Parabens
Natural
Phthalates
Biodynamic®
Sodium Lauryl Sulfate
Sustainable
Propylene Glycol
Cruelty Free
Animal Testing
Our natural, organic and Biodynamic® ingredients may have slight variations from harvest to harvest.
The visible signs of aging are reduced
Skin appears plumped and hydrated
Skin appears soft and noticeably smoother
Skin appears firmed and revitalized
Results are enhanced when using entire Firm Skin VitaSkin™ Solution. Eminence is constantly innovating our product formulations to deliver the best results.