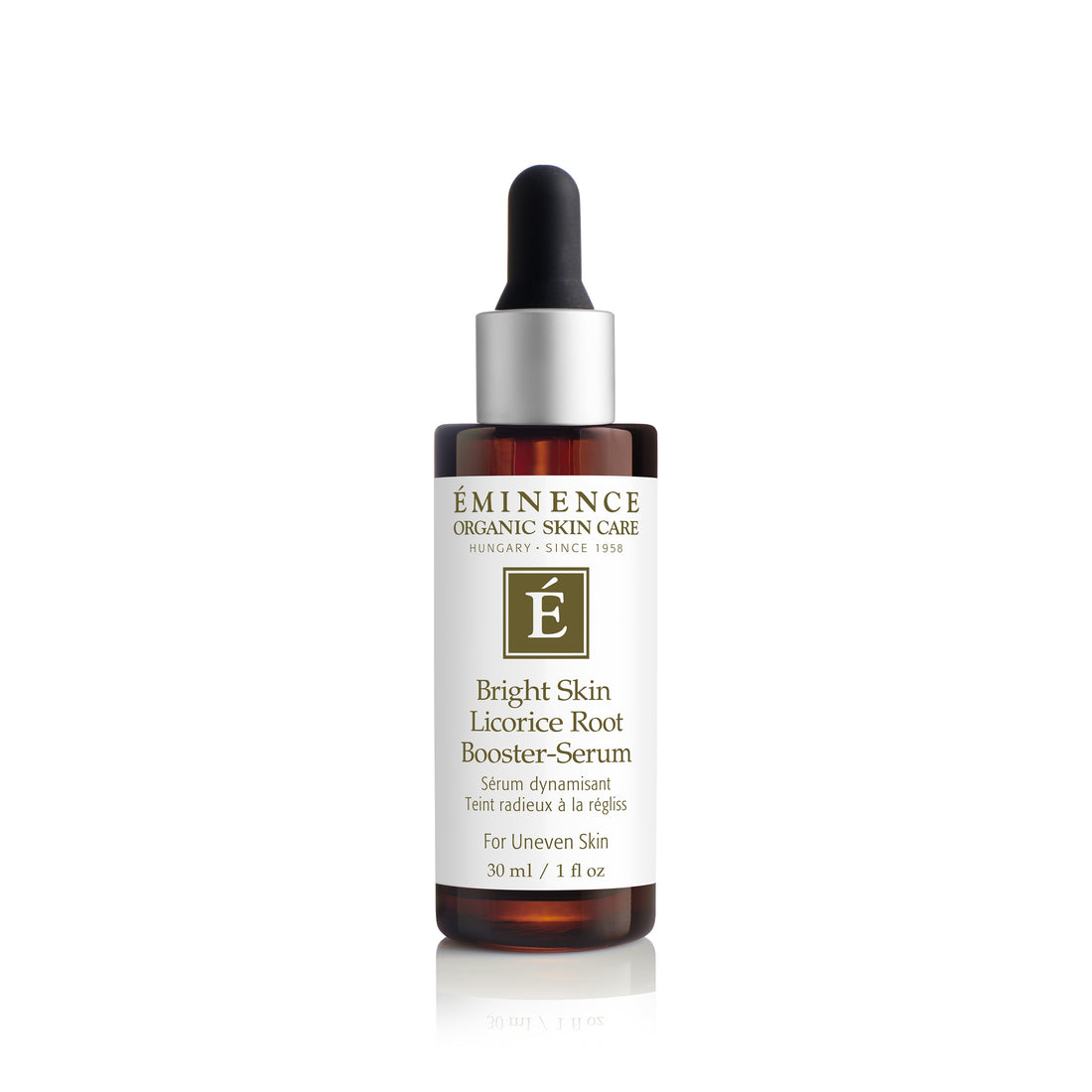 Eminence Organics Bright Skin Licorice Root Booster-Serum
💫 Earn 330 rewards points when purchasing this product as a rewards member*.
Reveal the look of your skin's luminous complexion with this extra strength brightening serum and product enhancer, infused with Natural Hydroquinone Alternative and Swiss Alpine Plant Extracts. 
Retail Size: 1 fl oz  / 30 ml
Apply a thin layer over the entire face, or apply to affected areas 1–3 times per day. Alternatively, combine 2-3 drops with an Eminence masque or moisturizer.
Licorice: brightens skin appearance
Natural Hydroquinone Alternative Complex: brightening with African potato and tara tree; antioxidant rich
Lactic Acid: sloughs off dead skin cells to rejuvenate the appearance of skin
Swiss Alpine Plant Extracts: brightens the look of skin
Stone Crop: hydrating and nourishing for uneven skin tones
Lemongrass: tones and cleanses skin
BioComplex: a booster of antioxidants, Coenzyme Q10, and Alpha Lipoic Acid to reduce the appearance of wrinkles and improve the appearance of skin
We Believe in
We say NO to
Organic
Parabens
Natural
Phthalates
Biodynamic®
Sodium Lauryl Sulfate
Sustainable
Propylene Glycol
Cruelty Free
Animal Testing
Our natural, organic and Biodynamic® ingredients may have slight variations from harvest to harvest.
Skin appears smoother, calmer and firmer
Skin is moisturized, more vitalized
Complexion appears lighter
Skin appearance is healthier