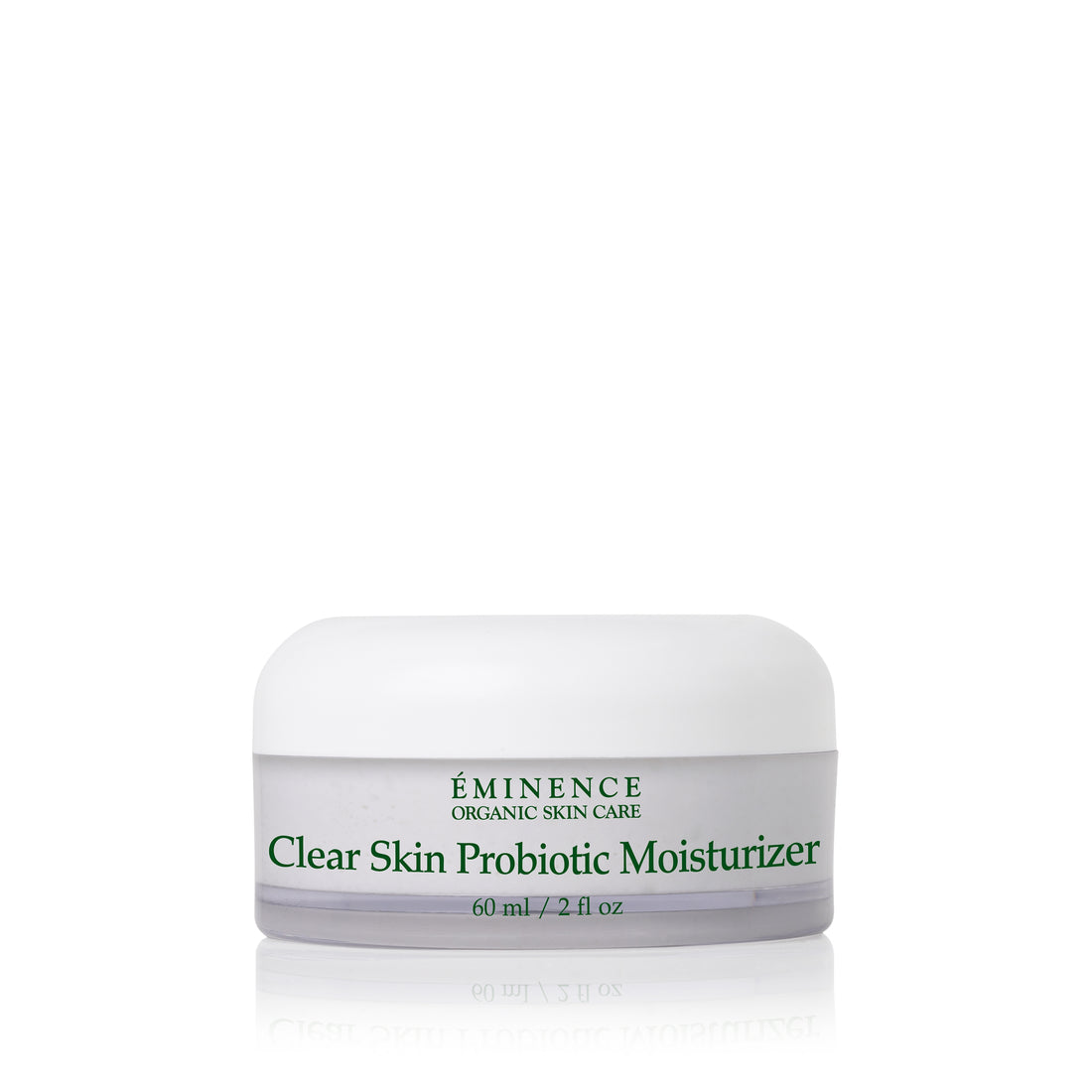 Eminence Organics Clear Skin Probiotic Moisturizer
💫 Earn 345 rewards points when purchasing this product as a rewards member*.
Use this ultra-light daily moisturizer to clear the appearance of problem skin, while minimizing clogged pores. Cucumber and tea tree help improve the appearance of blemishes and reduce the look of inflammation while probiotics exfoliate and leave the complexion looking calm.
Retail Size: 2 fl oz / 60 ml
Apply a layer of moisturizer over the entire face and neck area. Leave on. For a lighter application, emulsify a small amount of moisturizer in your hand with a few drops of water. For extra hydration, apply a thicker layer on dry areas.
Cucumber Juice: revitalizer, toner; tones and shrinks the appearance of skin pores while purifying the skin
Willow Bark Extract: astringent
Yogurt: exfoliating; contains lactic acid; moisturizing and nourishing
Tea Tree Oil: an essential oil
Calendula Oil: antioxidant, essential oil
Shea Butter: moisturizer high in triglycerides and fatty acids; excellent emollient for skin; replenishes the skin moisture barrier
Biocomplex: a booster of antioxidants, vitamins, Coenzyme Q10, and Alpha Lipoic Acid to improve the appearance of skin.
We Believe in
We say NO to
Organic
Parabens
Natural
Phthalates
Biodynamic®
Sodium Lauryl Sulfate
Sustainable
Propylene Glycol
Cruelty Free
Animal Testing
Our natural, organic and Biodynamic® ingredients may have slight variations from harvest to harvest.
Problem skin areas appear improved
Pore size appear minimized
Skin appears soft and noticeably smoother
Moisture balance in the skin is improved
Results are enhanced when using entire Clear Skin VitaSkin™ Solution. Eminence is constantly innovating our product formulations to deliver the best results.