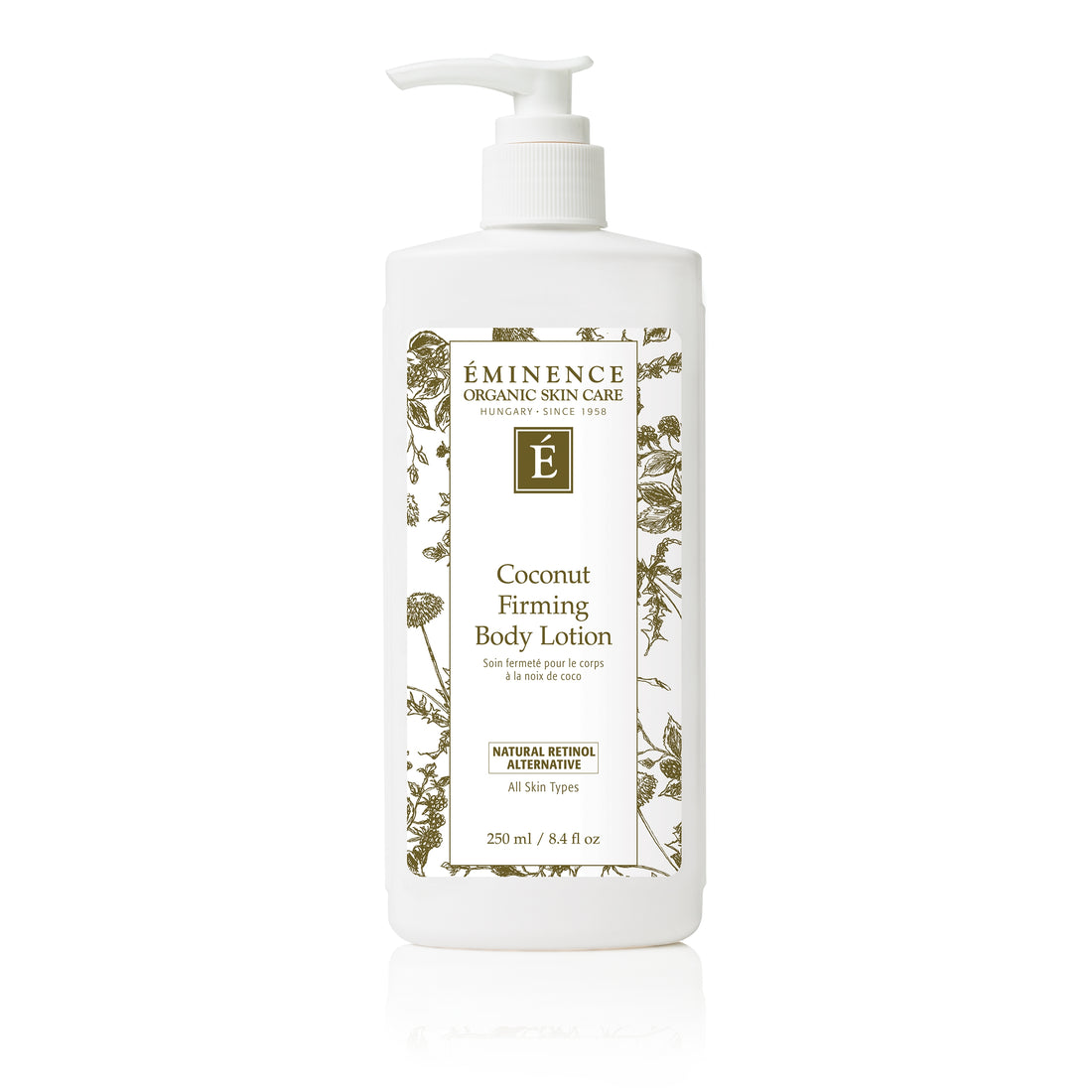 Eminence Organics Coconut Firming Body Lotion
💫 Earn 215 rewards points when purchasing this product as a rewards member*.
Coconut, shea butter and grape seed oil will leave your skin looking tight and firm, while providing deep and lasting hydration. 
Retail Size: 8.4 fl oz / 250 ml
Apply a small amount to cleansed skin. Massage in. Leave on. Recommended after exfoliation, shower, or body scrub. For a lighter application, dilute with water. Do not use on broken or abraded skin.
Coconut Milk: moisturizing and nourishing; softens the look of skin
Coconut Water: moisturizing and toning; source of electrolytes, vitamin C, calcium, potassium, phosphorus 
Natural Retinol Alternative Complex: contains chicory root oligosaccharides and tara tree; collagen boosting; firms and smooths the appearance of skin
PhytoCellTec™ Swiss Green Apple Stem Cells: rejuvenating plant stem cell concentrate
Botanical Hyaluronic Acid (derived from Marshmallow Plant): deeply hydrating; natural substance that smooths and plumps skin to minimize the appearance of fine lines and wrinkles
BioComplex: a booster of antioxidants, Coenzyme Q10, and Alpha Lipoic Acid to reduce the appearance of wrinkles and improve the appearance of skin
We Believe in
We say NO to
Organic
Parabens
Natural
Phthalates
Biodynamic®
Sodium Lauryl Sulfate
Sustainable
Propylene Glycol
Cruelty Free
Animal Testing
Our natural, organic and Biodynamic® ingredients may have slight variations from harvest to harvest.
Epidermis instantly feels firmer and tighter
Skin appears moisturized and revitalized
Skin texture appears smooth and velvety
The appearance of elasticity is returned for smooth looking skin
Eminence is constantly innovating our product formulations to deliver the best results.